Title:
Rinne no Lagrange; Flower declaration of your heart; Lagrange -The Flower of Rin-ne
Date Aired:
Dec 25, 2011
Producers:
Production I.G, Xebec
Chief Director:
Tatsuo Sato
Director:
Toshimasa Suzuki
Original Novel:
Kouhei Takuguchi (Media Factory) Souhei Tsukimi (Rinne no Lagrange) Takeshi Kanedaichi (Media Factory) Yasuji Misaka (Media Factory)
Genres:
Sci-fi, Action, Comedy, Mecha
Episodes:
12
Characters & Voice Actors:
Main
Kyouno, Madoka: Ishihara, Kaori
Laffinty, Fin E Ld Si: Seto, Asami
Muginami: Kayano, Ai
Synopsis:
Madoka Kyouno is an energetic girl who is full of passion. As the proud, and only, member of the Kamogawa Girls' High School Jersey Club, she goes around helping people in need. Madoka's life is turned upside down when she is suddenly asked by a mysterious girl named Lan to pilot a robot. Motivated by her desire to protect the people and city of Kamogawa, Madoka agrees to pilot the resurrected Vox robot to fight against extraterrestrials that have come to attack Earth.
(Source: VIZ Media, ANN, MAL)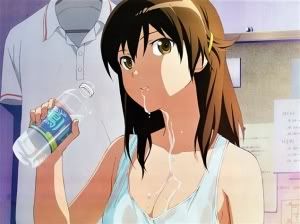 Additional Thoughts:
If you're a fan of the sci-fi genre, cute girls, and comedy then you might want to give this one a look. It seems there maybe a solid plot as well but after only four aired episodes they haven't fully explained it in great detail. Another interesting fact is that they've already committed to a second season of this anime before the first one aired. The second season is scheduled to start in July 2012.