For the people i made a handy 5 step download manual.
Instruction Manual.
In this instruction manual I will describe in five simple steps how you can download from this website without any problems.
Self-Service Downloading
Step 1.
First open your Internet Browser (Example: Internet Explorer or FireFox) and type in the address bar:
http://www.fansub.tv
(Everybody knows this
) .
Step 2.
Now you are on the main page. For a example we are going to download the anime "Eyeshield 21". First scroll down to you find the anime list and click on the anime Eyeshield 21 (See picture below)
Step 3.
In the next screen we will see a description of the anime and the available episode's. For our example we are going to download "episode 32". Scroll down until you find episode 32 and click on it (See picture below)
Step 4.
In the next screen we can choose from two download type's "Direct Download" and "BitTorrents" . We are going to use the direct download type. So press the link under Direct Download (See picture below)
Step 5. (Final Step)
After you clicked the link your will go to the "Download Authorization Screen" . You will get this screen at first (See picture 1). Then after a moment of patience you will get the following screen (See picture 2). Press the link and save the file to your hard disk. Once the download is completed you can play it in any Media Player, VLC or Media Player Classic are recommended to use. If you want another anime or more episode's just redo the five steps but choose another anime instead of Eyeshield 21.
Picture 1:
Picture 2: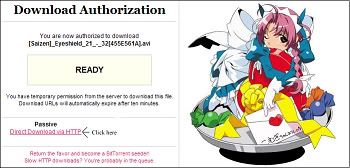 If you have any more questions let me know.